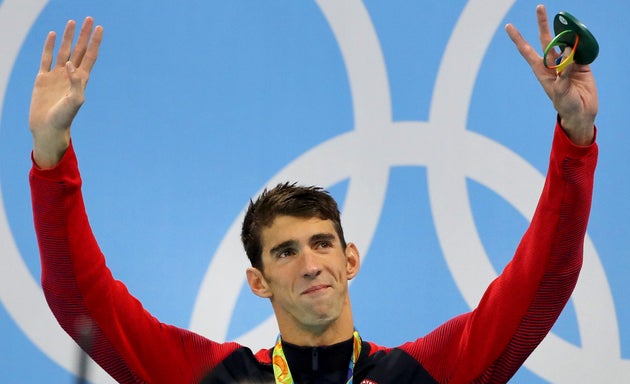 Photo b

y
Tim Clayton - Corbis via Getty
Images
Wrapping up his career as

the most medaled Olympic athlete in history

,

Michael Phelp

s won his

23rd gold medal

in his final appearance as part of the men's 4x100 medley relay -- and with it a new world record. This was his

5

th gold, along with

1

silver, in the Rio 2016 games.
Michael first competed as a 15 year old at the 2000 Olympics;

2016 was his 5

th

and

,

he says

,

his final Olympic competition

. Teammates note that he said the same thing after the 2012 games.
H

is overall

total number of Olympic medals is now 28

:

23 Gold, 3 Silver

,

and 2 Bronze

. Along with this, Michael holds

7 Olympic world records

.
While not

yet

matching Phelps' medal count, the U.S. team has had

other standout performances by

sw

immer Katie Ledecky with 4 gold medals and 1 silver

. S

he also smashed her own world record in the 800m race, where she finished

a whole 11 seconds ahead of the second place finisher, phenomenal in Olympic swimming where winners are often decided by hundredths of a se

cond.
In addition,

gymn

ast Simone Biels

is still winning gold after gold, already being mentioned as

the greatest woman g

ymnast

of all times. And, if it were not for her teammate Simone, Al

y

Raism

an

would have been the champ. The two finished #1 and #2 in the women's individual all round gymnastic competition. And they still have the in

dividual events to go.
Overall, this is a very good year for United States athletes. But

Phelps

,

Ledecky

,

and Biels

will go down in history as three of the best of all time

.
Ralph