The award ceremony for the
Screen Actors Guild
was held Sunday night -- and, even with all the excitement and joy felt by the winners, perhaps the
most appealing photo
of all was this one
of Meryl Streep straightening Ryan Gosling's bow tie
.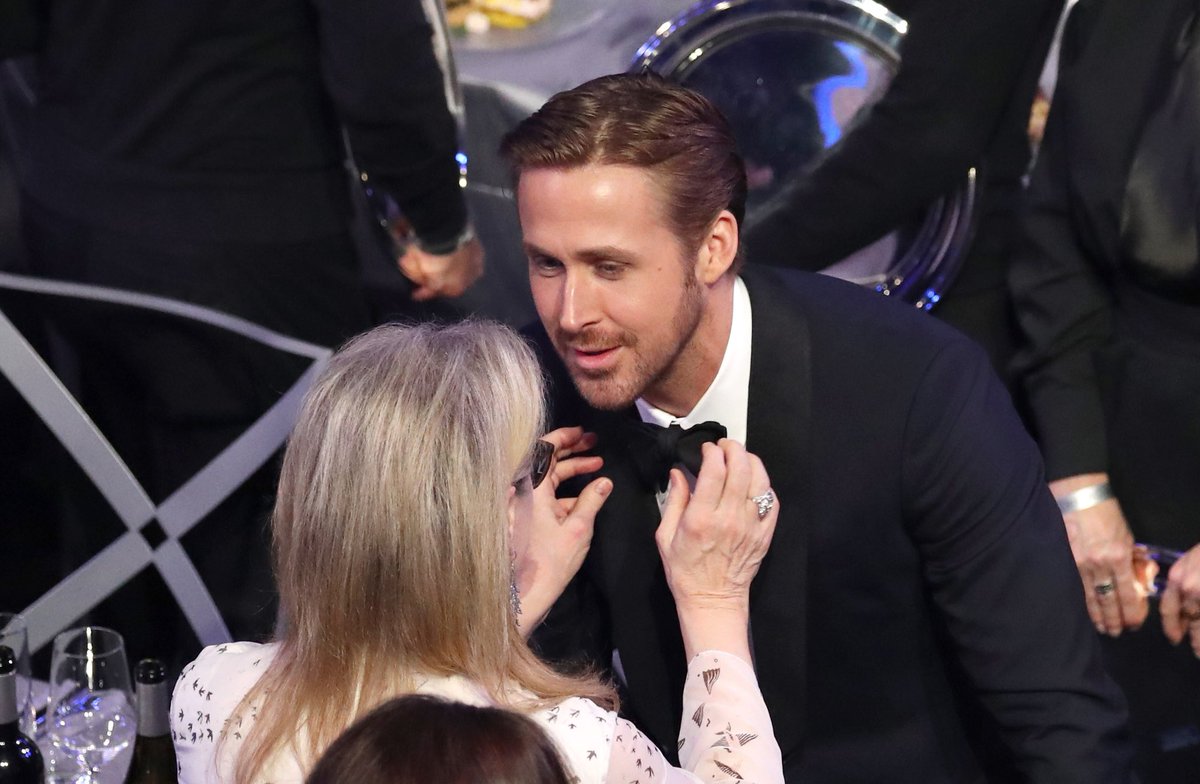 photo from Twitter
Why? What makes it so appealing that multiple cell phones were snapping away and posted the moment?
Meryl is such a goddess among actors that her doing ordinary
,
human things is always heart-warming
. It brings both of them down from the big screen and seem more like ordinary people. But it is also just so
her
.
Perhaps it is especially so right now because of the contrast with a certain "Man Who Would Be King" but was only elected president, who seems not to have a humble bone or nerve in his body.
The truth is:
Meryl Streep is really just like that
. Talk about "six degrees of separation" --
I know her with only one degree of separation
-- i.e., I know someone who knows her. When they were making the movie of the book,
The Hours
, in which she starred, a lot of it was filmed in London. The author of
The Hours
(Michael Cunningham) and his partner -- my friend and New York psychoanalyst-colleague (Ken Corbett) -- were there and "spent time hanging out with Meryl." Ken says she is just as down to earth and wonderful as people say she is.
More from the
SAG Awards
. These awards really count in the acting world, because this is a
guild of actors
,
voting on awards only to actors
. So it's actors judging and rewarding fellow actors. This year, I had seen more of the nominated movie entries than usual; and, as usual, I don't know most of the people who are up for television roles. So I'm only reporting on movie awards.
Last year
there was a big
flap about the very few nominations of African-Americans at the Oscars
. If that was due to bias in choices of movies to make, of casting for those movies, or of the nomination process, then it should be corrected. And they did make some changes, by broadening the eligibility of who votes for the Oscars. But there also are just going to be ups and downs, from year to year, in any characteristic you choose to look at, whether it's race or age or whatever.
This year was a particularly good year for black actors
. In fact, it was a great year because of the films that were made -- three of the Best Picture nominees were stories about black people and how being black affected their lives. Those films provided some great roles for black actors, and some great acting resulted -- and led to Oscar nominations. It wasn't just that Hollywood decided to vote for them to make up for last year..
For the movie division,
among the four individual acting awards, Emma Stone was the only white winner
-- for Best Female Actor in "La La Land." Denzel Washington won Best Male Actor for "Fences." Viola Davis won Best Female Actor in a Supporting Role for "Fences," and Mahershala Ali won Best Male Actor in a Supporting Role for "Moonlight." In addition, the ensemble of actors that won the Cast Award for "Hidden Figures" were mostly black, including all three of the principle roles in the film.
Ralph