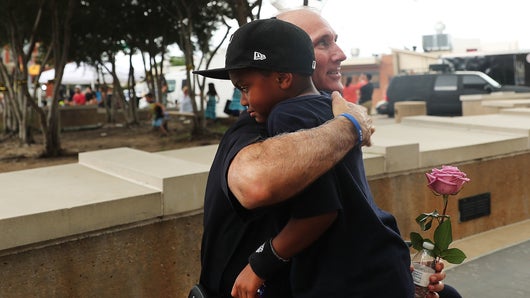 Photo: Getty Images
This photo was posted on Hu

ffington Post

without comment, but here is what I see in the picture. A young black bo

y has brought a white police officer a flower in a vase. The officer, obviously touched, hugged the boy.
Robert Kennedy

was a

presidential candidate campaigning in Indianapolis on April

4

, 1968 when he

had to announce

to the crowd

that

Martin Luther

King, Jr. had just been ass

assinated

in Memphis. Sta

n

ding on the back of a flatbed truck, Bobby Ke

nnedy

said to the stricken crowd:
"

What we need in the United State

s is not hatred

; what we need in the United States is not violence and lawlessness

but is love

,

and wisdom and compassion toward one another and a feeling of justic

e toward those who still suffer within our country

, whether they be white or whether they be bla

ck."
Kennedy
,
himself
,
would also be
struck down by an assassin's bullets

just two months later

on June 6, 1968

after having just won the California

Dem

o

cratic Prima

ry

. Following the assassination of his brother, President John F. Kennedy, five years earlier, Bobby Kenned

y had

seemed transformed into a

n active campaigner for civil rights and justi

ce

. On that fateful day

of the loss of Dr. King, Bobby Kennedy

had the same message
that we so terribly need now:

of love over hate, and justice for those who suffer unequal treatment

.
It seems we have to re-discover it again each time

a

senseless loss is so sha

ttering.

I
t is poignant to be reminded of it now, but

have we learned nothing

,

solved nothing

,

in the a

lmost

50 years since

?
Ral

ph