Believe it or not,
other things than Trump are happening in the world
. Trump sucks up all the oxygen and the attention, but occasionally some other story peeps through. Yesterday, we looked at the presidential election in Iran. Today, here are a few more varied news stories.
1. FoxNews creator and disgraced CEO
Roger Ailes died
at age 77 following a fall in his home and a resulting brain injury. As the
New York Times
' newest columnist and resident conservative Bret Stephens put it: ". . . nobody did more than Ailes to broaden the reach of conservative ideas . . . . Except in this respect: If Ailes broadened, he also debased.
The man
, who did so much
to engineer the ascendancy of conservative media
,
paved the way to its moral and intellectual decline
-- much as his own accumulation of vast corporate power created openings for his abuse of it."
2.
North Korea fired
yet another
ballistic missile
into the waters off its east coast. South Korea says this interferes with hopes for peace under its new president.
3. About one-third (82) of the Nigerian
school girls
that were
kidnapped by Boko Haram
terrorists in 2014 have been reunited with their families. The government
is providing a rehabilitation program for the girls, who are now 18 to 21 years old.
4. The
dire economic situation in Venezuela
continues; many people lack even basic subsistence food. Street protests are continuous and growing in urgency and violence.
5.
Sweden has dismissed the rape charges against Julian Assange
, the Wikileaks guy who has spent the last five years in the Ecuardorian embassy in London, where he sought asylum to avoid those very charges, which he claims are made up. Sweden is not conceding, just accepting the stalemate. Assange
still faces other charges
if he leaves the embassy: from England, for failing to appear in court; and then he would face
extradition to the US
, where he is under investigation regarding the classified documents released on Wikileaks.
6. The
girls'
soccer team
AEM Lleida in Spain has
won the league championship in an otherwise all-male
, junior division. Yeah! You go, girls.
7.
Anti-LGBTQ Republican legislators
in Texas are
stealthily introducing amendments
to must-pass legislation, in the late days of the session, that would allow doctors, nurses, and pharmacists
to discriminate in providing services
that are contrary to their own personal religious beliefs. In contrast,
Oregon
has passed a provision for a
third option for sex on drivers licenses
and other state issued ID's. One can opt for "male," "female," or "
non-binary
." The only objection from any legislators was over the cost of reprogramming, not the idea itself.
8. Hillary Clinton's long-time aide,
Huma Abedin
, has filed for
divorce from disgraced husband Anthony Weiner
, who has recently pleaded guilty to transferring obscene material to a minor. His sentence, which could include years in jail, will be decided in September.
9. Nearly 150
students
and family members
walked out
when Vice President Mike
Pence began his commencement address
at Notre Dame University. One wore a rainbow-colored cape, others had on rainbow colors -- in
protest of
the former Indiana governor's
anti-gay policies
and his infamous signing of the "religious freedom" (aka anti-gay discrimination) bill that was quickly modified when cancellations began to flood in from scheduled NCAA and concert events and from corporate and tourist sectors.
10.
Pippa Middleton
,
sister to Catherine
,
Duchess of Cambridge
and sister-in-law to Prince William, was
married on Sunday
to hedge fund manager James Matthews. Pippa's niece Princess Charlotte and nephew Prince George were in the wedding party. Prince Harry and some other royal family members also attended. It
wasn't quite a royal wedding
,
but plenty of royal relatives in attendance made it seem so
. Pippa had made quite a hit with the media when she was the very photogenic younger sister at the Royal Wedding of William and Kate.
Check out the photo below of the
future Queen Catherine performing bridesmaid duties
for her sister. Shortly before, she had been shepherding Princess Charlotte and Prince George into their places as flower girl and pageboy.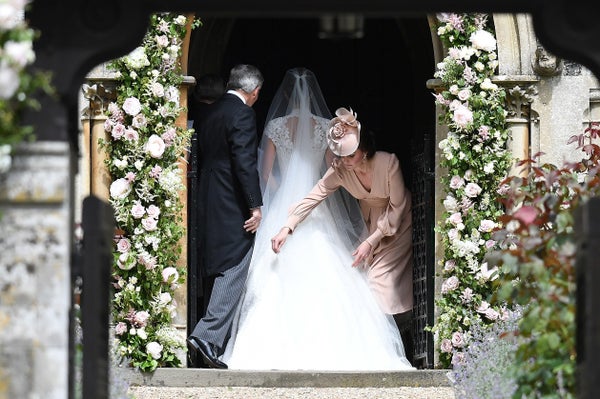 photo by Samir Hussein, via Getty Images
See, there's lots of news, even when Himself is away.
Ralph